Cliff Harvey
and
Little Hot Spring Farm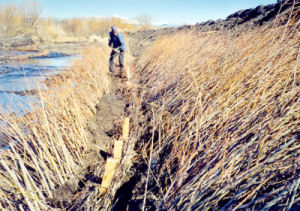 Cliff is available for selected projects. He can assist you with many aspects of natural resource management, especially to do with stream restoration, erosion control, recreation management and resource assessment, including:
In California:
Restoration project management and management team leadership.
Revegetation design and inspection for erosion control and watershed restoration.
Resource assessment and planning.
Environmental inspection and monitoring services for restoration and construction projects.
Technical, interpretive, and grant writing and editing.
Field data collection.
Grant research and writing.
Outside California:
All of the above, plus:
Project permitting and NEPA compliance
Creative project mitigation planning
Please contact me to find out how I can help you meet your resource management goals!
Cliff is a Certified Professional in Erosion and Sediment Control (CPESC no. 3431)
More Information

View some of Cliff's past projects
(last updated Dec. 29, 2009)